---
Critique « sweet dream » dans flute View (USA)
Oct 1, 2017 by The Flute View
Jean-Louis Beaumadier: Album Review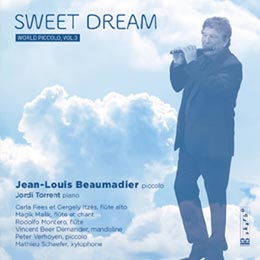 If you wake up in a sad mood, I suggest you put on Jean-Louis Beaumadier's new CD, Sweet Dream,a joyous album which as Jean Louis says, "demonstrates the lighter side of the piccolo's character." The album is part of Beaumadier's ongoing piccolo repertoire project, and Sweet Dreams is World Piccolo, volume 3. The collection includes works by these composers from throughout the world: Camarguo Guarnieri, Mike Mower, Jean Michel Damase, Gordon Jacob, Veronique Poltz, Flint Juventino Beppe, William Bardwell, Eugene Magalif, Raymond Gulot, and Malik Mezzadri. Beaumadier is a brilliant player, who has brought piccolo playing to a new level of attention and artistry through his many recordings and commissioning of new work. He plays with a beautiful sound, perfect pitch and crystal clear rhythm, always with a joyous infectious energy!! He has some wonderful guest players on the CD including Carla Rees and Gergely Itzes on Alto flute, Magik Malik on flute/ voice, Vincent Beer Demander on Mandoline, Peter Verhoyen on piccolo, Mathier Schaefer on xylophone and Jordi Torrent on piano. They are all expert players who add to the virtuosity of the album. For example, I loved Peter Verhoyen in the humorous piccolo duet with piano by Eugene Magalif and Jordi Torrent's incredible ensemble playing throughout the album. The final work on the album is Malik Mezzadri's, Naomi which shows a different side to the piccolo, utilizing flute and flute singing, done expertly by Magik Malik. It's an abstract atonal work that reminds us that the piccolo had great versatility and that Beaumadier is a master of it all!! You can purchase the album on his website. –Barbara Siesel
---
Pastoral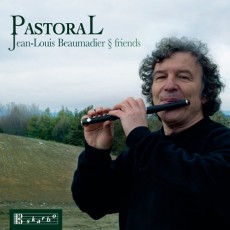 Jean-Louis Beaumadier : Various Artists
Skarbo DSK4117
As spring arrives and thoughts turn to the outdoors, Pastoral makes an apt musical counterpart. Above all it is French piccoloist Jean-Louis Beaumadier's playing that is memorable for perfectly-tuned long tones, controlled dynamic changes and technical virtuosity. Two short chamber pieces on the disc specify use of the piccolo; otherwise, Beaumadier has assembled a group of pastoral 20th-century works originally written for the pipe or the flute. Of special interest are seldom-heard miniatures for pipe by such composers as Roussel, Poulenc and Milhaud, published in the volume Pipeaux 1934. I particularly enjoyed the Poulenc Villanelle which has a quality of quirky sentiment. A number of composers included have associations with Beaumadier's native Provence. Henri Tomasi (1901–1971) wrote Le tombeau de Mireille for galoubet (tabor) and tambourin (pipe), evocative of the medieval Provençal world of troubadours and chivalry. (Note: the tabor's rattle takes getting used to.)
In the flute works, the piccolo's pure, focused timbre shows to advantage, conveying well the birdsong, whistle, outdoor piping, dance and amatory elements of the pastoral genre. The soloist moves assuredly through contrasts of melody and rapid filigree in Philippe Gaubert's tender Andante pastoral. He captures the intimate and pensive feeling in Germaine Tailleferre's Pastorale, with its gently rocking piano accompaniment. The best is saved for last: the Sicilienne et burlesque (1914) by Alfredo Casella reminding us of the significant accomplishment of this neglected modernist.
---
Bonsai Wordsmith
Audiophile Audition
"Brésil 1900" = Works of SILVA, REICHERT & CALLADO for piccolo & piano – Skarbo
Audiophile Audition
Musicweb International
Elise MacDonald