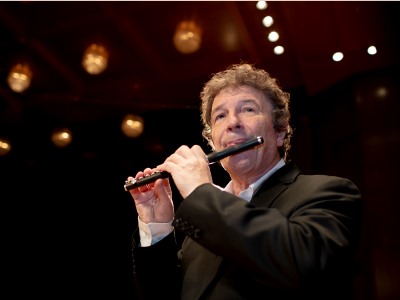 Jean-Louis BEAUMADIER began studying flute at he Marseille Conservatoire with Joseph Rampal and then continued at the Conservatoire National Supérieur de Musique De Paris with his son, Jean-Pierre Rampal. Awarded prizes at International competitions in Geneva and in Paris (Guilde des artistes solistes),  piccolo solo for twelve years at the Orchestre National de France, he then became one of the best piccolo players in the world, renown through his discography (Grand Prix of the Académie Charles Cros), his concerts in Europe, USA and Far East and his piccolo score collection published by Billaudot editions.
His avid interest in the piccolo, and for wooden instruments in general dates from his youth when his family bought him a magnificent french ebony « Bonneville » piccolo. For some years, he has studied in depth the art of the piccolo in order to make it better known and share his passion. Piccolo solo in the Orchestre National de France, he was performing under the direction of famous conductors : Sergiù Celibidache, Karl Böhm, Leonard Bernstein, Seiji Ozawa, Ricardo Muti, Lorin Maazel, Wolfgang Sawallisch, Georg Ludwig Jochum, kurt Mazur, Kurt Sanderling, Nello Santi, Claudio Abbado, Pierre Boulez… and was also working with other orchestras in the world, such as the Saïto Kinen orchestra conducted by Seiji Ozawa.
His discography is abundan (Skarbo, Calliope-Harmonia-Mundi, Classic-Talents, Lyrinx, Rodolphe, Nouveaux Horizons, Saphir, Naïve, Indésens). He has recorded thirty CDs, including International Grand Prize Winner of the Charles Cros Academy for his disc, « The golden age of piccolo » featuring works of Eugène DAMARE (1840-1919), (Calliope Records 9869 Harmonia-Mundi); concerning this recording, Aurèle Nicolet has written, « Beaumadier's record is marvelous in sound, in technique, and above all in elegance and charm. It is a true delight ! »
All this brings him the recognition of many flautists and invitations all over the world in flute conventions and festivals : Japan, USA, UK, Netherlands, Bazil, CostaRica, Austria, Slovenia, Ecuador, Venezuela… In addition, he performs numerous concerts throughout the world :France( Paris Radio-France and Salle Cortot), Israël, Ireland, Belgium, Germany, Senegal, China, Croatia, Usa-(NY Carnegie Hall) Austria, Slovenia, Spain, The Netherlands, Finland (Helsinki Sibelius Academy)…
Performed piccolo concertos with many orchestras: Orchestre National de France, Simon Bolivar orchestra in Caracas (Sistema), Wiener Konzert Verein, New-York Soloists, Brussel Chamber Orchestra, National orchestra of Costa Rica and Ecuador, Orchestre Philharmonique de Marseille, Orchestre d'Auvergne, Orchestre de Bohème, Quito Chamber Orchestra, San Jose Chamber Orchestra, I musici di Vivaldi, Orchestre de Cannes, Orchestre de l'Université Claude Champagne (Montréal), Orchestre de Chambre d'Alsace, Les Musiciens de FranceKairo Symphonic Orchestra, Orchestra Camera Musicae in Cataluna, Orchestre de chambre de Genève, Taïpei Philharmonic Orchestra (Taïwan), Twin Cities Orchestra of Minneapolis, Prague Radio symphony…
Jean-Louis BEAUMADIER is teaching masterclasses in famous musical institutions throughout the World.
Regardless of musical demands or genre, Jean-Louis BEAUMADIER takes the piccolo to great heights and has established himself as an artist beyond compare. Jean-Pierre Rampal wrote about Beaumadier:
« Endowed with Marvelous technique, he stands out, thanks to his winning personality and his developed artistry. It is a pleasure to listen to him sometimes dreaming and others vibrating… »
Jean-Pierre Rampal
SUIVRE LA BIO
---
Collection unique (autour de 90 titres) consacrée au piccolo comporte deux ouvrages pédagogiques, des pièces pour piccolo seuls écrites pour Jean-Louis Beaumadier, des concerti, un large choix de piccolo et piano, ainsi que quelques pièces pour 2 piccolos et piano ou pour piccolo, flûte et piano.
Jean-Louis Beaumadier anime des Master-classes dans les grandes institutions musicales à travers le monde.